At the moment, I am unable to digitally paint. I mean, it's
possible
, but really it's too f'ed to the point of "I can't work like this."
For a while now, my FujitsuST5112 has been having a few problems. Blue screen of death, etc. Also, the Wacom drivers that I use for my pen have been occasionally screwy (I'd lose sensitivity / the buttons on the pen wouldn't work). I could always fix the pen driver problem by simply re-installing the driver.
But not this morning. I had quite the series of blue screens today (six in a row), and then when that stopped, my driver shite out. Like usual, I tried my fix by re-installing it. Only this time, no luck. I spent the entire morning fiddling with re-installing it, rebooting my computer, trying different drivers from both Wacom and Fujitsu, trying different fixes that I found online, and all sorts of methods that one could think of. In the end, I was left with an weak form of what I previously had: the latest Wacom driver which only read one trigger button on my pen, rather than two. I need two to be proficient: one for ALT / dropper tool and the other for right click / changing brushes and brush size.
I can't really work without both. Right now I'm stuck with just ALT. This not only sucks for when I use my computer for
anything else
, as there really isn't a right click, but it makes me have to open up the brush menu to change and
resize
my brushes. I could make due with opening the menu for changing the brush, but not for the resize. I resize my brush as much as I drop pick colors. Both of which I do practically as much as I make brush strokes. I really just can't paint without these primary functions.
So then I spent my entire afternoon looking at new tablet pcs. I've really been getting into the idea of upgrading for a while now. The Fujitsu, being fairly cheap, was really my gateway into digital painting. From Daarken's awesome tutorials, I knew that the machine was decent for painting and the price was pretty good too. So like a first car, my Fujitsu was my pretty old, yet reliable junker. I mean, I love this machine, but now that I've matured as a digital painter and I've solidified digital painting as an attainable job for me, it's time to upgrade.
So now, I'm going from the trusty, rusty FujitsuST5112...:
...to an all new, Windows 8 tablet, the Sony VAIO Duo 11:
I should be getting it shortly and I'm looking forward to the new mustang of a computer. I'm entering a bright age of digital painting, professional on the inside and the outside. Wish me luck.
UPDATE: It turns out that the Duo is not too friendly with Photoshop. After some looking, I may have found something better. I will get back to you on this...
UPDATE 2: It's here, I'm using it now...the Fujitsu Lifebook T902: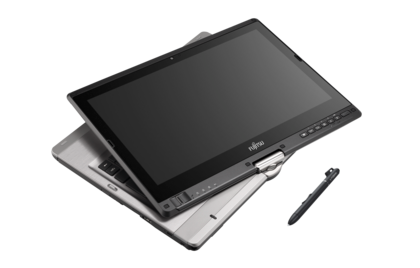 I'll make a Photoshop painting demo on it shortly.